TheraGear Exercise #329
Advanced Seated Alternating Arm Circles on Swiss Exercise Ball with TheraGear® Power Weight Ball
Shoulders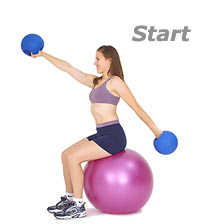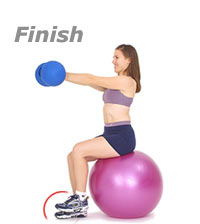 Exercise Description:
Advanced Seated Alternating Arm Circles on Swiss Exercise Ball with TheraGear® Power Weight Ball

Classification:
Shoulders

Instruction:
Seated on the Swiss Exercise Ball, start with the arms extended down. Moving in opposition to one another, swing the arms at a controlled pace in a full circling arc…one forward and one behind. Both arms should meet at the same point over head. Alternate between sets keeping one foot off the floor. Finish the movement with the arms ending in the start position. When going through the movement try to keep body positioning stable without sway.


Related Products
Swiss Exercise Ball
Swiss Pro Ball