Fit Band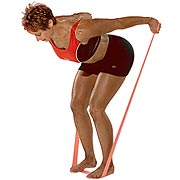 Fit Band:
A complete resistance exercise program. Ideal for upper and lower body conditioning. The Fitband is inexpensive and effective. The perfect tool for group fitness, personal training and Rehab. Available in 5 different resistance levels and in 1,2m (4 feet) 5m (15 ft) and 25m (75ft).

Buy 1 - 25m roll receive 1 Door attachment FREE
Which resistance level should I use?




| | | |
| --- | --- | --- |
| Fit-Band | Resistance Level | Recommended for |
| Yellow | X-tra Light | post-operative rehabilitation |
| Green | Light | Rehab, Seniors and Children |
| Pink | Medium | Average Women |
| Violet | Strong | Average Men and Active Women |
| Red | X-tra Strong | Advanced Men and Women |
Attributes
Price

TFB-XL
Fitband, x-light, yellow
$1.95


TFB-L
Fitband, light, green
$2.45


TFB-M
Fitband, medium, pink
$2.95


TFB-S
Fitband, strong, violet
$3.45


TFB-XS
Fitband, x-strong, red
$3.95


PRS-L
Fit Band Progressive Resistance System, Light, Set of 3, x-lite-yellow, lite-green, med-pink
$6.99


PRS-M
Fit Band Progressive Resistance System, Medium, Set of 3, lite-green, med-pink, strong-purple
$7.99


PRS-H
Fit Band Progressive Resistance System, Heavy, Set of 3, Medium-Pink, Strong-Purple, X-strong-Red
$9.45


TFB-5XL
Fitband, 5m roll, x-light, yellow
$6.95


TFB-5L
Fitband, 5m roll, light, green
$8.95


TFB-5M
Fitband, 5m roll, medium, pink
$9.95


TFB-5S
Fitband, 5m roll, strong, violet
$11.95


TFB-5XS
Fitband, 5m roll, x-strong, red
$13.95


TFB-25XL
Fitband, 25m roll, x-light, yellow
$29.95


TFB-25L
Fitband, 25m roll, light, green
$39.95


TFB-25M
Fitband, 25m roll, medium, pink
$44.95


TFB-25S
Fitband, 25m roll, strong, violet
$54.95


TFB-25XS
Fitband, 25m roll, x-strong, red
$64.95


TDA-100
Door-Attachment
$4.95