TheraGear Exercise #352
Abdominal Stretch on Swiss Exercise Ball with TheraGear® Body Toning Bar
Abdominal Core, Back, Shoulders, Stretches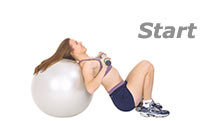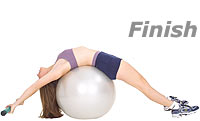 Exercise Description:
Abdominal Stretch on Swiss Exercise Ball with TheraGear® Body Toning Bar

Classification:
Abdominal Core, Back, Shoulders, Stretches

Instruction:
Begin with head and shoulder blades on Swiss Exercise Ball in a supine position, knees are directly over-top of ankles, tips are toward floor. Inhale slowly extend back on ball raising the TheraGear® Body Toning Bar over the head. The option is to hold here for 1 minute or repeat this exercise 10 times holding for 2 seconds each repetition.


Related Products
Swiss Exercise Ball
Swiss Pro Ball