TheraGear Exercise #445
Yoga: Preparation pose for warrior three
Yoga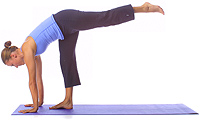 Exercise Description:
Yoga: Preparation pose for warrior three

Classification:
Yoga

Instruction:
Place the right toes forward and lift the left leg up. Keep both hips square towards the floor and press the hands down towards the ground. Maintain a straight spine and straighten the right and the left leg. Stay strong through the core and maintain this posture for 5 to 10 breaths.