TheraGear Exercise #194
Lunge and Overhead Press with TheraGear® Medicine Ball and TheraGear® Ankle Tube
Legs, Shoulders, Baseball Specific Training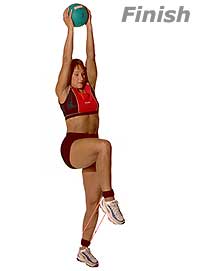 Exercise Description:
Lunge and Overhead Press with TheraGear® Medicine Ball and TheraGear® Ankle Tube

Classification:
Legs, Shoulders, Baseball Specific Training

Instruction:
Begin in a lunge position with TheraGear® Ankle Tube around ankles and Medicine Ball in hands. Move your back leg forward until it is in front of you in a knee-up position. At the same time, lift the medicine ball overhead. Release and repeat other side.


Related Products
Ankle Tube
Balance & Core Training
Medicine Balls