TheraGear Exercise #83
Lateral Flexion on TheraGear® Core Disk
Abs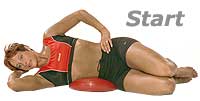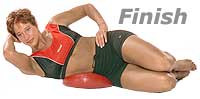 Exercise Description:
Lateral Flexion on TheraGear® Core Disk

Classification:
Abs

Instruction:
Lie on your side with the TheraGear® Core Disk under waist. Bend the legs to 90 degrees, knees and feet touching. Put the top hand on the top hip. Bend the bottom arm, resting the head on the palm. The shoulders, hips and knees should line up. Lift bottom shoulder off the floor, bringing the ribcage closer to the hips on the top side. Release.


Related Products
Balance Fit