TheraGear Exercise #130
Adductor Stretch on Ergo Sit™ & Core Disc
Lower Body, Stretches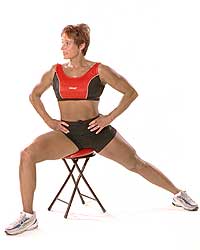 Exercise Description:
Adductor Stretch on Ergo Sit™ & TheraGear® Core Disc

Classification:
Lower Body, Stretches

Instruction:
Place Ergo Sit™ on a stool. Straddle the stool sideways with your left leg extended behind you, toe pointing to the side, and your right leg bent in front of you, knee lined over ankle. Reverse straddle so the right leg is extended behind you and the left leg is bent in front of you.


Related Products
Balance Fit
Ergo Sit