TheraGear Exercise #233
Abdominal Crunch with Fitband
Abdominal Core, Abs, Golf Specific Training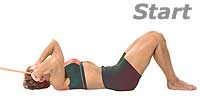 Exercise Description:
Abdominal Crunch with Fitband

Classification:
Abdominal Core, Abs, Golf Specific Training

Instruction:
Lie face up on mat with feet on floor and knees bent. Attach Fitband to secure object behind you and wrap ends of Fitband around each hand. Bend arms, placing hands by ears and elbows forward. Using Fitband as resistance, perform an abdominal crunch. Release and repeat.


Related Products
Fit Band