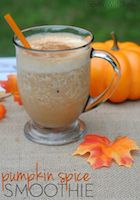 This tasty treat is so Thanksgiving.
It's got pumpkins that are filled with complex carbohydrates, fiber, anti-oxidants, and vitamin A, healthy fats — coconut butter — as well as lots of fruit.
Prep time: 5 mins
Total time: 5 mins
Serves: 2 cups, 1 serving
Ingredients
½ cup Greek yogurt, ½ cup pumpkin puree, ½ banana, 1 small apple, diced, ¼ an orange, peeled, 2 tablespoons coconut butter, ¾ teaspoon cinnamon, ⅛ teaspoon ground ginger pinch of ground nutmeg, cloves and all spice.
Instructions
Place everything in the blender.
Blend until smooth
Sprinkle with cinnamon, nutmeg, clove and ginger if you'd like!
This smoothie is not overly sweet. If you would like to sweeten, add maple syrup.
---