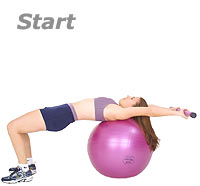 To help predict 2011's training trends, the American College of Sports Medicine surveyed thousands of fitness professionals across the country. The recently released results
(published in the ACSM's Health & Fitness Journal)
include tried and true toning techniques, as well as some creative new calorie burners that are sure to make getting fit a resolution you'll actually keep.

1. Educated and Experienced Fitness Professionals
Holding on to the no. 1 spot for the last 4 years (including 2011)
A personal trainer can help guide and motivate you by creating a workout program designed to fit your specific needs and schedule. Personal trainers are great for fitness newbies or old pros looking to add some variety to their routine
2. Fitness Programs for Older Adults
Jumping from no. 6 in last year's survey, fitness programs for older adults is now no. 2 in the 2011 survey. As the baby boom generation ages into retirement, experts predict that the demand for programs geared towards older adults will continue to increase. Age-appropriate fitness programs for older adults frequently include exercises designed to enhance daily living (such as functional fitness, below), as well as sports like golf and tennis. Low-impact activities such as yoga, and t'ai chi are especially effective for maintaining flexibility and strength, combating arthritis pain and inflammation, and preventing age-related injuries.

3. Strength Training
This is a trend for both men and women to incorporate strength training into their exercise routines. Strength-training programs use various tools to improve muscle strength and endurance, including dumbbells, kettlebells, medicine balls, Fit Tubes , Swiss exercise balls and even one's own body weight.
4. Children and Obesity
The problem of childhood and adolescent obesity continues to be a major health issue. As school systems face the reality of cutting programs such as physical education and recess to spend more time preparing for standardized testing in this challenging economy. In 2011, the health and fitness industry will continue to respond with more new programs specifically designed for children, including aerobics, strength training, and personal training programs, as well as programs that combine gymnastics, dance and tumbling.
5. Core Training
This trend stresses strength and conditioning of the stabilizing muscles of the abdomen, thorax, and back. Core training continues to use Swiss exercise balls, BOSU balls, wobble boards, and foam rollers among other pieces of equipment. Although some have speculated, just a few years ago, that core training was a "fad," it seems to have stood the test of time as it again appears at no. 5 on our trend list.
6. Exercise and Weight Loss
Jumping six whole places from no. 12 on last year's survey is exercise and weight loss. For many years, exercise professionals have been trying to infuse a regular exercise program into the caloric restriction diets of many popular weight loss programs.
7. Boot Camp
If what you truly need is a proverbial kick in the gym shorts, boot camp might be for you. This high-intensity structured activity program, patterned after military style training. Boot camp includes cardiovascular, strength, endurance, and flexibility drills and usually involves both indoor and outdoor exercises that are typically led by an instructor who means business. Boot camps also can combine sports-type drills and calisthenics.
8. Functional Fitness
The goal of a functional fitness program is to make daily activities like walking, getting up from a chair, or simply picking something up from the floor smoother, easier, more efficient and safer. This involves not only training for muscular strength and endurance, but also training for stability and flexibility.
A good functional fitness program includes exercises that closely resemble the way we move while performing these day-to-day task
9. Physician Referrals
More and more, physicians are partnering with health and fitness professionals and facilities to make it easier for their patients to include exercise in their overall wellness plans. This trend is associated with the ACSM's "Exercise is Medicine®" initiative to "make physical activity and exercise a standard part of prevention.
10. Yoga
With yoga's increasing popularity, finding a yoga style to fit your fitness needs is easy.
Yoga has taken on a variety of forms within the past couple of years including Power yoga, Yogalates (a combination of yoga and Pilates), and Bikram yoga, performed in hot and humid environments.
---