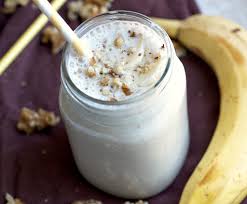 Get energized for a workout with this banana smoothie. Plus, bananas provide antioxidants, potassium and other nutritional benefits.
Ingredients
2 cups (500 mL) skim milk
1 large banana
1 Tbsp (15 mL) honey
1/4 tsp (1 mL) vanilla extract
Handful walnut pieces (or 7 halves)
Directions:
Blend all ingredients together.
Nutritional information:
Serves two. Per serving: 227 calories, 10 g protein, 5 g fat (1 g saturated fat), 37 g carbohydrates, 2 g fibre, 5 mg cholesterol, 130 mg sodium
---