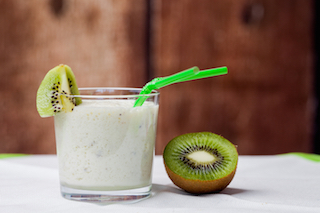 Kiwi 'n Kale Smoothie
Get energized with some protein-packed green power! Combining veggies and fruit in a milk smoothie is a sweet way to do it. Kale is rich in nutrients, including vitamins A, C and K; calcium; and iron.
Ingredients:
1 1/2 cups (375 mL) skim milk
2 cups (500 mL) kale stems and leaves
1 kiwi fruit, peeled
1 Tbsp (15 mL) smooth unsalted peanut butter
1 tsp (5 mL) agave nectar, honey or maple syrup
Directions:
Blend all ingredients together.
Nutritional information:
Serves two.
Per serving: 174 calories, 11 g protein, 5 g fat (1 g saturated fat), 24 g carbohydrates, 3 g fibre, 4 mg cholesterol, 128 mg sodium
---