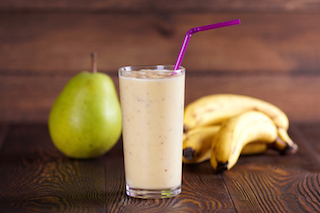 Power up your morning with this pear-and-banana smoothie. One serving has almost a quarter of your daily vitamin C requirements. Plus, it has a good amount of fibre (28 percent of the daily value), which promotes digestion and regularity
Ingredients:
2 ripe pears, pitted and coarsely chopped
1 tsp (5 mL) peeled and coarsely chopped ginger root
1 banana
1 cup (250 mL) skim milk
Handful of ice
Sprinkle of cinnamon on top
Directions:
Blend all ingredients together.
Serves two.
Nutritional information:
Per serving: 199 calories, 6 g protein, 1 g fat (0 g saturated), 47 g carbohydrates, 7 g fibre, 2 mg cholesterol, 66 mg sodium
---