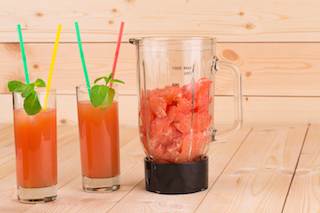 Pink grapefruit, pineapple and strawberries are super-high in vitamin C—a disease-fighting antioxidant. And if you tend to have low iron levels, it's good to know that vitamin C helps with absorption of this mineral. So power up your morning with this delicious smoothie. Yum!
Ingredients:
1 large pink grapefruit, peeled, seeded and cut into chunks
1/2 cup (125 mL) crushed pineapple, canned or fresh
1/2 cup (125 mL) fresh or frozen strawberries (if using fresh, add 1/4 cup [60 mL] ice for extra froth)
1/2 cup (125 mL) non-fat Greek yogurt
Directions:
Blend all ingredients together.
Nutritional information:
Serves two.
Per serving: 159 calories, 7 g protein, 0 g fat (0 g saturated fat), 35 g carbohydrates, 5 g fibre, 0 mg cholesterol, 26 mg sodium.
---