Dynamint Muscle Balm -> Dynamint Muscle Balm, 237ml / 8fl.oz. bottle
Dynamint Muscle Balm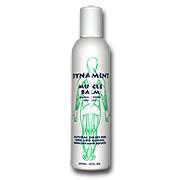 Name: Dynamint Muscle Balm

Model: Dynamint Muscle Balm, 237ml / 8fl.oz. bottle

Model Description: Dynamint Muscle Balm, natural relief for sore and aching muscles and joints.
Ingredients: Water, Peppermint Oil, Calendula Oil, Eucalyptus Oil, Phenoxyethanol, Mineral Oil, Sodium Acrylate Copolymer, Sorbitan Mono Oleate, Colloidal Silica, Tea Tree Oil.

Product Description: A soothing combination of natural essential oils in a gentle cream base. This specially formulated topical application aids in relieving the pain and stiffness associated with strained or sore muscles.