Yoga & Pilates -> Cotton Yoga Strap, 6 feet
Yoga & Pilates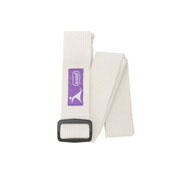 Name: Yoga & Pilates

Model: Cotton Yoga Strap, 6 feet

Model Description: Straps are one of the most underutilized props in a yoga studio; If you're serious about deepening your practice, it's time to get serious about trying a strap.

Product Description: Yoga an ancient system of body & mind exercise that offers benefits in flexibility, greater strength and concentration. Pilates was created 90 years ago and was used by dancers. Now achieved worldwide acclaim from people who want lean well toned bodies.