Dynamint Muscle Balm -> Equine Dynamint Leg & Muscle Rub 474ml / 16fl.oz. bottle
Dynamint Muscle Balm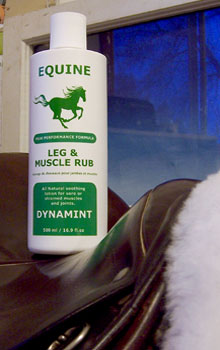 Name: Dynamint Muscle Balm

Model: Equine Dynamint Leg & Muscle Rub 474ml / 16fl.oz. bottle

Model Description: A new stronger formulation of Dynamint, developed for the Equine Market It has proven effective as a leg brace and tightener, skin brace and sweat. It works very well at alleviating muscle damage and tendon strain and has excellent swelling reduction properties. It can also be used under leg wraps without fear of blistering or burning. Ingredients: Peppermint Oil, Eucalyptus Oil , Tea Tree Oil and Calendula Oil

Product Description: A soothing combination of natural essential oils in a gentle cream base. This specially formulated topical application aids in relieving the pain and stiffness associated with strained or sore muscles.