Yoga & Pilates -> Pilates Mini Ball, purple, 9"/23 cm
Yoga & Pilates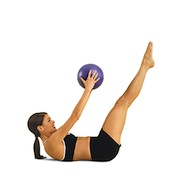 Name: Yoga & Pilates

Model: Pilates Mini Ball, purple, 9"/23 cm

Model Description:
The Pilates Mini Ball is a sure way to tone your abs and inner thighs as well as increase your flexibility, strength and endurance!
Suitable for relaxation and deep relaxation, for abdominal muscle training and neck massages. It can also be used as supporting cushion, when it is partially inflated.
A wonderful tool for adding focus & energy to your workouts.


The Pilates Mini Ball is easy to inflate by gently blowing into the inflation straw (included)
• For all skill levels--beginner to advanced

Material:
- PVC
- Phthalate Free
- Latex Free

Product Description: Yoga an ancient system of body & mind exercise that offers benefits in flexibility, greater strength and concentration. Pilates was created 90 years ago and was used by dancers. Now achieved worldwide acclaim from people who want lean well toned bodies.