Body Toning Bars -> Theragear® Body Toning Bar 6lbs/2.7kg, 42"/105cm, green
Body Toning Bars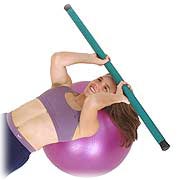 Name: Body Toning Bars

Model: Theragear® Body Toning Bar 6lbs/2.7kg, 42"/105cm, green

Model Description: The 6lbs Theragear® Body Toning Bar is recommended for beginner women.

Product Description: The Theragear® Body Toning Bars are weighted exercise bars, made out of steel and are enclosed in a dense foam for a comfortable and secure grip. They can be used in fitness and aerobics as well as yoga and pilates. They are great for strengthening, conditioning and flexibility training.



Theragear® Body Toning Bars are also green-friendly.

We are proud to offer a new service to our customers.

The Refurbished Body Toning Bar program.

Fitness professionals and consumers can return an old Body Toning Bar to us. The steel from the returned bars is then encased in a new foam casing and given new end caps.

Please contact customer service for more information. : Customer Service

Attributes
Price

BTB-06
Theragear® Body Toning Bar 6lbs/2.7kg, 42"/105cm, green
$29.98


BTB-09
Theragear® Body Toning Bar 9lbs/4.1kg, 42"/105cm, red
$37.98


BTB-12
Theragear® Body Toning Bar 12lbs/5.5kg, 42"/105cm, purple
$44.98


BTB-15
Theragear® Body Toning Bar 15lbs/6.8kg, 42"/105cm, blue
$52.98


BTB-18
Theragear® Body Toning Bar 18lbs/8.2kg, 42"/105cm, black
$59.98


BTB-24
Theragear® Body Toning Bar 24lbs/11kg, 48"/122cm, hunter green
$74.98