Step Tube -> Step Tube, light, yellow
Step Tube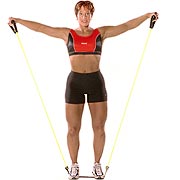 Name: Step Tube

Model: Step Tube, light, yellow

Model Description: This light Step Tube gives you that little bit of resistance to make your exercise routine more effective.

Product Description: Specially designed with nylon reinforcement in the middle to use in combination with a stepper. Allows you to train your upper body while performing your step exercises. Resistance levels of the step-tube were developed especially for the aerobic workout; equipped with comfortable rotating foam handles. Can also be used without a stepper to protect tubing on rough surfaces and carpets.
Which resistance level should I use? Click Here