Arm Toner -> Arm Toner, medium, green
Arm Toner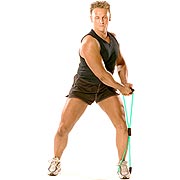 Name: Arm Toner

Model: Arm Toner, medium, green

Model Description: Get your upper body in shape.
The medium Physio Toner is the right choice if you want moderate resistance in your exercise routine.

Product Description: With light weight figure eight shaped exercise tool is great for different upper body exercises. It allows you to target individual muscles groups. Nice comfortable foam handles. Can also be used in aerobic classes.
Please note: Black center cuff is only available in Canada at this time.

Which resistance level should I use? Click Here