Fit Tube -> Fit Tube, light, yellow
Fit Tube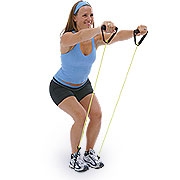 Name: Fit Tube

Model: Fit Tube, light, yellow

Model Description:
Recommended for Beginner to Moderately Fit

Product Description: The Fit Tube is the workout tool you can use anywhere, anytime in just minutes a day. Fit Tubes are a great and efficient fitness and rehab tool, for toning and strengthening of your body.

Strength training is a key element of balanced fitness. Benefits include building strong, lean muscles and joints, increased calorie burning and bone density.

Their light and portable size allows for easy storage and use. Our Fit Tubes are equipped with padded rotator handles for maximum training comfort.

They can also be used for group exercises, personal training and traveling and progressive resistance levels make it suitable for all fitness levels.

Due to the inherent risks in using this product, no liability whatsoever is accepted.


Which resistance level should I use? Click Here