Fit Band -> Fitband, 5m roll, x-strong, red
Fit Band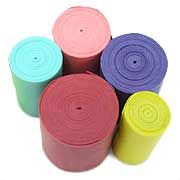 Name: Fit Band

Model: Fitband, 5m roll, x-strong, red

Model Description: This 5m roll of x-strong Fitband is great for small rehabilitation or fitness classes, which use very strong resistance in their workout.

Product Description: A complete resistance exercise program. Ideal for upper and lower body conditioning. The Fitband is inexpensive and effective. The perfect tool for group fitness, personal training and Rehab. Available in 5 different resistance levels and in 1,2m (4 feet) 5m (15 ft) and 25m (75ft).


Which resistance level should I use?




| | | |
| --- | --- | --- |
| Fit-Band | Resistance Level | Recommended for |
| Yellow | X-tra Light | post-operative rehabilitation |
| Green | Light | Rehab, Seniors and Children |
| Pink | Medium | Average Women |
| Violet | Strong | Average Men and Active Women |
| Red | X-tra Strong | Advanced Men and Women |

Sold Out


Sold Out


Sold Out