Ankle Tube -> Ankle Tube, light, yellow
Ankle Tube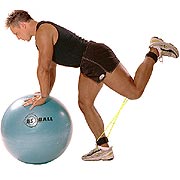 Name: Ankle Tube

Model: Ankle Tube, light, yellow

Model Description:
The light Ankle Tube is recommended for Beginner to Moderately Fit

Product Description: The Ankle Tube is the perfect tool for strengthening and toning the entire lower body. Side to side, backward, forward and diagonal movements develop lateral speed, quick feet drills, endurance, agility and balance.

The adjustable padded ankle cuff provides maximum comfort and freedom of movement in all directions.
Which resistance level should I use? Click Here