Massage Balls -> Spiky Massage Balls Set of 4
Massage Balls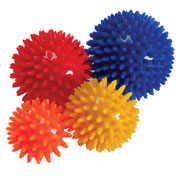 Name: Massage Balls

Model: Spiky Massage Balls Set of 4

Model Description: Four sizes are available to let you massage small and large muscles with different levels of intensity. Their small size also makes them great for squeezing for general stress relief.

Product Description: Relax sore and strained muscles. Unique spike or a smooth design provides massage to promote the recovery of tight and tired muscles. For best results, build pressure and then roll the Theragear Massage Ball from side to side or in circles to release knots and kinks. Great as a quick pre-workout warm up or anytime you need relief. Recommended areas: foot, calf, thighs, glutes, psoas, torso, neck and arms. The Massage Ball is small enough to take with you and use anywhere. Keep one at home, another at work and another in your gym bag.