Yoga & Pilates -> Yoga / Pilates 6 piece starter kit
Yoga & Pilates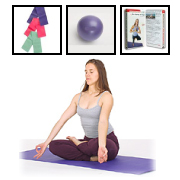 Name: Yoga & Pilates

Model: Yoga / Pilates 6 piece starter kit

Model Description: Yoga mat, Yoga DVD, Fit Band Set of 3 (light, medium, strong) Pilates Mini Ball 9"

Product Description: Yoga an ancient system of body & mind exercise that offers benefits in flexibility, greater strength and concentration. Pilates was created 90 years ago and was used by dancers. Now achieved worldwide acclaim from people who want lean well toned bodies.