Swiss Ball Pro -> Mini Air Pump
Swiss Ball Pro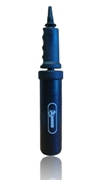 Name: Swiss Ball Pro

Model: Mini Air Pump

Model Description: The Mini Air Pump is a compact manual inflation pump that is durable, ultra-portable and easy to use. The universal valve fittings allow this inflation pump to inflate air mattresses, balls, inflatable boats, balloons and more! This mini air pump inflates on both the out stroke and the in stroke for no wasted effort and faster inflation.

Product Description: The original Swiss balls have earned their spot as one of today's top fitness products. Found in almost every gym and fitness studio, the exercise ball has become one of the most popular and easy to use tools to increase core and abdominal fitness.

Fitness professionals and casual fitness enthusiasts will get the most out of their daily workout using the Theragear Swiss Ball Pro to encourage building muscle while promoting flexibility, balance, posture as well as coordination.

Our tough exercise ball is eco-friendly, free of phthalates, and latex maintaining the smallest environmental impact.

The Theragear Swiss Ball Pro features extra thick walls, constructed to perform with exceptional durability for your workout.
Offers maximum firmness and support.
If the ball is punctured it will deflate safely and slowly.

The Theraguard™system is burst-proof up to 500 lbs
Has a 2200 lb. Static Weight limit.

1 year warranty on manufacturing defect

Made in Taiwan

Pump is sold separately

"SWISS BALLS ARE NOT SUITABLE FOR BENCH PRESS EXERCISES OR USE OF HEAVY WEIGHTS IF TOTAL WEIGHT EXCEEDS 500LBS.

How to Use an Exercise Ball As a Chair

Pros & Cons using a Swiss Exercise Ball as a Chair

How to Inflate the Swiss Pro Ball

Which size is right for me?