Jump Ropes -> 9', Red with Plastic Handles
Minimum order quantity of 10
Jump Ropes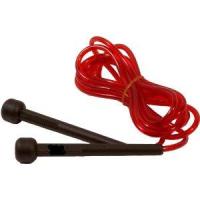 Name: Jump Ropes

Model: 9', Red with Plastic Handles
Minimum order quantity of 10

Model Description:
The aerodynamic 9' non kink rope cord is made of PVC and has comfortable contoured plastic handles. It is lightweight and flexible, which allows you a much faster spinning pace than heavier ropes.
Please note the color of the jump rope is red with black handles.

Product Description: Jump rope training will enhance coordination, agility, quickness, footwork and endurance. Research confirms jump rope can dramatically improve cardiovascular health in only 5-10 minutes, while improving sports skills and concentration and serving as a method for rehabilitating injuries.