Fit Band -> Fit Band Progressive Resistance System, Medium, Set of 3, lite-green, med-dark green, strong-purple
Fit Band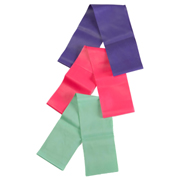 Name: Fit Band

Model: Fit Band Progressive Resistance System, Medium, Set of 3, lite-green, med-dark green, strong-purple

Model Description: The Theragear Fit Band Resistant System increases difficulty from green to dark green and then violet. Having a set allows you to use the band that fits the muscles being toned. For example, pink is perfect for most arm workouts, while violet is great for legs. You can even tie them into loops for some exercises. Please note the Fit Bands contain natural rubber latex.

Product Description: A complete resistance exercise program. Ideal for upper and lower body conditioning. The Fitband is inexpensive and effective. The perfect tool for group fitness, personal training and Rehab. Available in 5 different resistance levels and in 1,2m (4 feet) 5m (15 ft) and 25m (75ft).


Which resistance level should I use?




| | | |
| --- | --- | --- |
| Fit-Band | Resistance Level | Recommended for |
| Yellow | X-tra Light | post-operative rehabilitation |
| Green | Light | Rehab, Seniors and Children |
| Pink | Medium | Average Women |
| Violet | Strong | Average Men and Active Women |
| Red | X-tra Strong | Advanced Men and Women |

Sold Out


Sold Out


Sold Out