Balance Pod -> 7" Balance Pod, blue, set of 6, includes needle pump
Balance Pod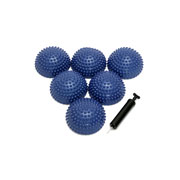 Name: Balance Pod

Model: 7" Balance Pod, blue, set of 6, includes needle pump

Model Description: • Arrange in any position and step from one to another. • Flat side down for moderate balance training. • Special design on the flat side provides slip resistance. • Pebble side down for more challenging balance training. • Only available in blue

Product Description: Core stability and balance are important for good performance in almost all sports and activities.

Balance Pods are simple tools, providing amazing results to help you strengthen abs, firm quads and glutes, increase balance and prevent lower back pain.