Yoga & Pilates -> Yoga DVD - The Power Of Yoga
Length: 60 mins
Format: DVD
Yoga & Pilates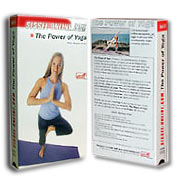 Name: Yoga & Pilates

Model: Yoga DVD - The Power Of Yoga
Length: 60 mins
Format: DVD

Model Description: "The Power of Yoga", filmed on the beautiful shores of British Columbia's Sunshine Coast, will guide you on an empowering journey. This journey will quiet your mind, energize your body and invigorate your spirit. Guided by Sharon Tron, an inspiring yoga teacher, you will enjoy a yoga experience that will develop the flexibility of both your body and your mind. You will learn a series of movements that will increase your muscle tone, strength and endurance. To assist you with learning these yoga Asana's, a free chart is enclosed. This chart illustrates all 40 postures used in the DVD, which accommodate the beginner to advanced student.

Product Description: Yoga an ancient system of body & mind exercise that offers benefits in flexibility, greater strength and concentration. Pilates was created 90 years ago and was used by dancers. Now achieved worldwide acclaim from people who want lean well toned bodies.