KettleBells -> TheraGear™ KettleBell 16 KG / 35 LB
KettleBells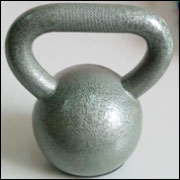 Name: KettleBells

Model: TheraGear™ KettleBell 16 KG / 35 LB

Model Description:
-TheraGear™ KettleBells have forged steel handles
-TheraGear™ KettleBells have a rubber-base which protects floor
-TheraGear™ KettleBells have a durable grey hammer-coat finish


Product Description:
What are KettleBells?
A 'kettlebell' is a traditional Russian cast iron weight that looks like a cannonball with a handle. KettleBells can enhance the training program of anyone that seeks strength, lose weight and burn fat while helping to maintain maximum flexibility, power, endurance and balance, challenging both the muscular and cardiovascular system with dynamic, total-body movements. Also a great addition to any circular strength training or cardio group fitness class.