Volleyballs -> Malibu, white mix
Volleyballs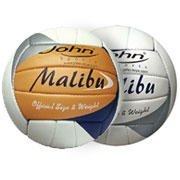 Name: Volleyballs

Model: Malibu, white mix

Model Description: The 'Malibu' is a Soft Touch ball with an approximate weight of 10 oz.

Product Description: We offer three different kinds of Volleyballs which all have the official size and weight. Two of them are Soft Touch Balls and one actual Beach Ball.
All our Volleyballs are 50% off the regular Retail price!!