Thermal Sand Bed -> FLOOR MODEL SOLD AS IS
Hospital unit with 3-side heating, 250kg special sand, and nettle cloth
Thermal Sand Bed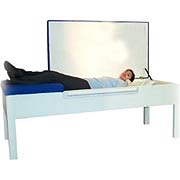 Name: Thermal Sand Bed

Model: FLOOR MODEL SOLD AS IS
Hospital unit with 3-side heating, 250kg special sand, and nettle cloth

Model Description:
Therapy with the ribluŽ thermo-therapy Sand Bed is an alternative without side effects!
Pains are eased and the tone of the muscles is reduced by a slow and extensive supply of adjustable dry heat.

Relief of the pressure on the predestined parts of the body by embedding them in a special coarse-grained sand (on a surface of 1.24 m˛)
What are the uses of the ribluŽ Thermal Sand Bed?
All rheumatic forms of diseases, such as arthrosis, tennis-elbow, degenerative diseases of the skeleton
aches and pains in sinews, muscles and joints
spasms (reduction of the tone in tense and cramped muscles)
neuralgic pains (sciatica neuralgia, stump-neuralgia after amputations)
aches and pains caused by injuries
post-operative treatment, post-treatment after fractions
osteoporosis
gout and sciatica
Inflammatory diseases
psycho-vegetative illnesses
symptoms of exhaustion
phantom pains
fibromyalgia


Product Description: The interior of the ribluŽ thermo-therapy sand bed is filled with approx. 250kg (550lbs) of special thermo-conductive sand. This sand allows for an anatomically optimal embedding, which guarantees an even and comprehensive distribution of heat. When closed, the ribluŽ thermo-therapy table can be used as a massage table or relaxation bench.
By means of two gas hoist devices opening the upholstered cover is easy. Heat source as well as electrical parts are covered with an aluminum shield. The temperature of the sand is adjusted by means of a thermostat. .
To order this item please contact customer service:
in Canada: 1-800-811-1355
in the US: 1-888-474-7735