Orthopedic Supports -> Ergonomic Sitting Wedge, blue
Orthopedic Supports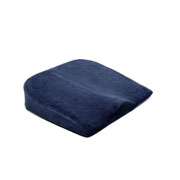 Name: Orthopedic Supports

Model: Ergonomic Sitting Wedge, blue

Model Description: If you are spending a lot of time sitting in an office chair or in a car, using a seat wedge helps you correct posture, decrease muscle tension, ward off back pain and protect the spine. Sitting on the slanted wedge back support cushion encourages the pelvis to tilt slightly forward, shifting the body weight onto the "sits bones". The wedge cushion therefore places you in a "neutral spine" position, which has two main benefits:
1. Your joints are most protected from the forces of gravity pushing down on your body in the neutral position.
2. Your deep abdominals, which support your back are activated in this position.


Product Description:
Improve posture and discourage slouching with these Orthopedic Supports. Use it to help maintain the natural curves of the spine and ward off back pain.