Dumbbells -> Theragear® 1 lbs Vinyl Dumbbell , Yellow, Single
Dumbbells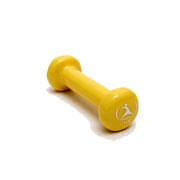 Name: Dumbbells

Model: Theragear® 1 lbs Vinyl Dumbbell , Yellow, Single

Model Description: Theragear® 1 lbs. Vinyl dumbbell, yellow

Product Description: Versatile exercise equipment
Perfect for aerobics or light lifting at home, heavier lifting or bodybuilding and toning, strenghtening, relieving stress and reducing common aches and pains. Our TheraGear™ vinyl coated dumbbells provide effective cross training, promote increased calorie burn... and enhance cardiovascular fitness.
Dumbbells are sold as singles.