Latex-Free Tubing -> Latex Free Tension Band Workout Set
Latex-Free Tubing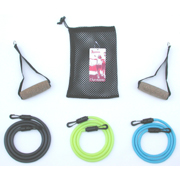 Name: Latex-Free Tubing

Model: Latex Free Tension Band Workout Set

Model Description:
Includes 3 resistance bands
1 light, sky blue (5lbs-9lbs),
1 medium, yellow (7lbs-11lbs),
1 strong, black (9lbs-13lbs)
Unique clipping system for attaching to cork handles
Bands are latex free, Made out of TPR
Travel Bag included

Product Description:
The set is designed with your health and the environment in mind. Due to increased numbers of latex allergies we have designed our bands latex free. The latex free bands match the performance and resistance of their latex counterparts. The set features interchangeable natural cork handles. The cork handles provide a comfortable grasp feeling. Cork is a natural renewable, non toxic material. The Theragear Tension Band Workout Set provides you with a convenient workout designed to strengthen, sculpt and tone all major muscles of your body. Unlike regular exercise bands, the unique clipping system allows users to adjust resistance levels from 5lbs to 13lbs and match the workout intensity to their own level of fitness.