Ball Chairs -> TheraGear™ Executive Ball Chair
Ball Chairs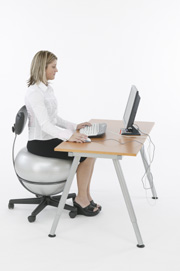 Name: Ball Chairs

Model: TheraGear™ Executive Ball Chair

Model Description: Our TheraGear™ Executive Ball chair™ is ideal for the office environment. It has all the same benefits as our regular ball chairs while offering a new outstanding design with swivel base and easy to adjust backrest.

Please note ball is black and not silver as in picture

Recommended for people 5' 4" and taller.


Includes rolling frame, black burst-proof 22"/55cm Aero ball & pump

Product Description: Maintaining posture is a key to overall health and physical well-being. A unique and comfortable alternative to an ordinary chair. Sitting on the TheraGear™ Ball Chairs takes pressure off the spine, releases muscle tension, corrects posture, improves balance and strengthens the torso. Promotes active sitting while strengthens the back and improves posture.