When the weather turns cold, you don't have to put your fitness routine on ice.
Below are a few ideas to keep your heart pumping and muscles flexing .
Ski , Snowboard or Snoeshoeing

What's a better winter sport than hitting the slopes? Skiing and snowboarding use all the major upper- and lower-body muscle groups.
These intense winter workouts will leave you feeling the burn throughout your entire body.
Approximate calories burned in 30 minutes:

Skiing, downhill: 200

Skiing, cross-country: 300

Snowshoeing: 250
Hike
Donít let the temperature keep you from the great outdoors. Bundle up and go for a hike. Many nature preserves and local parks stay open in winter and can provide a fun weekend outing for the family.
Beaches usually offer free admission in the off-season and are another great place for a hike with pretty views ó plus the resistance of the sand adds to the challenge of your hike.
Approximate calories burned in 30 minutes: 150
Skate
Ice-skating is fun for the whole family. Itís a good, active alternative to something stationary like seeing a movie.
Approximate calories burned in 30 minutes: 150
Swim
Just because itís not summer doesnít mean you canít swim.
Practice your strokes, do a few laps, and take some time to relax and play around in the water. Itís a sure way to warm up in the winter chill.
Approximate calories burned in 30 minutes: 250
Yoga, Pilates
Escape the winter blahs and find your inner zen with yoga. Not only is yoga meditative, you'll build muscle holding those tough poses, so you'll be more relaxed and toned after your winter-long practice. Pilates builds up your core and strengthens your abs. There are plenty of exercise routines you can take advantage of in the warmth and comfort of your own home.
Approximate calories burned in 30 minutes:

Pilates: 125

Yoga: 150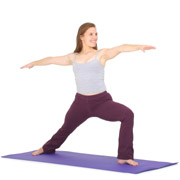 Shovel
And don't forget clearing the driveway after a heavy snow. If youíve got the time and energy, have your driveway do some work for you by keeping that gas-guzzling snow blower in the garage and shoveling instead.
Even after a downfall of just a few inches, shoveling the driveway is a true cardio exercise ó and youíll have the automatic incentive of being able to get out of the house.
Approximate calories burned in 30 minutes: 245
---