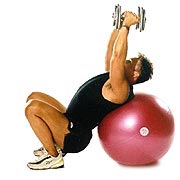 Gyms are becoming a popular fixture in many modern homes, in part due to the convenience and privacy that they offer. While it might be relatively easy to set up a home gym, however, actually using it can prove to be more of a challenge. It isn't easy to find the motivation to start exercising, especially when you're surrounded by your favorite distractions and creature comforts.
Tracking your progress gives you concrete evidence that all of the work you're putting into your exercise routine is paying off. It can help to motivate you to continue at your current pace or push yourself even harder. Here are a couple of easy ways that you can accurately chart your progress to see how far you've come since you took the first step towards a healthier lifestyle.
Keep a Workout Log and Food Diary
Regularly logging your workouts is a great idea to keep up and plan your workout sessions. You can keep track of when you last exercised, what you did, and for how long. This way, if you don't see the results you're looking for, you'll have a better idea about which parts of your exercise routine need to be changed. It's also a good idea to keep a food diary as well, especially if weight loss is one of your main fitness goals. This allows you to keep track of your nutrient intake and your daily calorie count. Like your workout routine, you can use these logs to change your diet over time.
Measure and Weigh Yourself Regularly
In addition to charting your daily workouts, you should also be sure to keep tabs on what you weigh each day or each week. This way, you'll see if you're shedding pounds in a healthy and consistent fashion. You should also measure areas such as the chest, waist, and hips to watch the inches drop off. If your weight is fluctuating or refusing to drop, you may want to consider changing either your diet or your workout.
Invest in a Wearable Tracker
Nowadays, you don't necessarily have to keep track of your fitness progression with pen and paper. Wearable technology such as the FitBit has given people a hands-off way to track their daytime activity. You can see information such as heartbeat, steps taken, and even estimated calories burned. Better yet, all of this information can be sent to and stored in the cloud.
Keeping track of your fitness journey is a surefire way to ensure that you're meeting your goals each week. It's a good idea to log each work out a measure yourself regularly to see results and figure out any necessary changes to your routine. You can also take advantage of advanced technology to track your movements and analyze your workout.
---