So why Pick Resistance Band Training?
There's a chance you're much more reluctant to grab a resistance band over a barbell, dumbbell or weight machine since it is focused on a different way of muscular training. Traditional strength methods need you to raise a great amount of weight to produce muscle, however light resistance bands focus on stretching as well as pulling instead. Though it may take a while to get accustomed to working with them, the bands provide incredible advantages.
Convenience
When you are purchasing your personal exercise equipment, price along with space for storing are usually major factors. While many other resistance training products could cost lots of money, occupy lots of space and may be hard to move around, resistance bands present zero of these disadvantages. They are light in weight, space-efficient as well as one of the most economical workout products. Furthermore, these are simple to use and also have a lower injury risk to kids or awkward hands.
Physical Advantages
By using them consistently, resistance bands have outstanding physical advantages. Together with assisting you maintain or add lean muscle mass on your body, MayoClinic.com accounts that the bands may improve bone density, assist in manage a person's weight, control pain or persistent problems as well as improving your endurance.
Psychological Advantages
Making use of resistance training bands can be a physical method to exercise, however they also boost your mental health. As outlined by MayoClinic.com, frequent resistance work enhances concentration as well as focus in older adults. You can even get pleasure from increased self-confidence right after exercising with resistance bands, because it is possible to notice good improvements in your whole body along with an increase in effort and dedication.
Tips
Resistance bands are simple to use however there are some risks of injuries or strain should you use them improperly. The National Institute on Aging says that you can wrap a band snugly around your hand or even foot and not snap it; if you maintain your motions slow and controlled. Exercise with bands 2 or 3 times weekly, allowing muscles to rest for a day in between each workout.
Considerations
Talk with your physician to obtain the Okay prior to starting any kind of resistance training plan. Bands provide various levels of resistance depending on their size and color, also darker bands are generally harder to stretch compared to lighter bands. If you are a newbie, it is beneficial to obtain a number of resistance levels so you may find the proper amount of stretch for every exercise.
Our recommendation for a well-rounded workout;



Latex Free Tension Band Workout Set: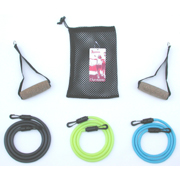 ---