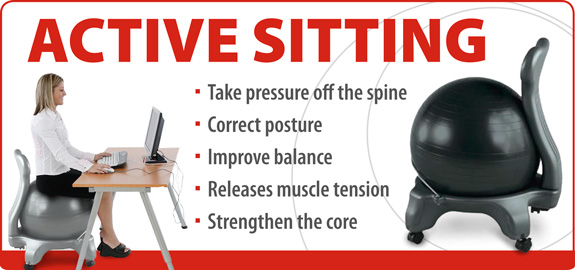 When you're busy at your computer, reading, or watching TV, you may forget that you're also sitting - until you get up, and feel pain or stiffness.
Research has addressed the negative effects of excessive sitting. Dr. James Levine, director of obesity solutions at the Mayo Clinic and Arizona State University, for example, has found that too much time in a chair can increase the risk of diabetes, hypertension and cancer. If that doesn't scare you, Michelle Olson, Ph.D., an exercise physiologist at Auburn University in Montgomery, Ala., says that excessive sitting can flatten the buttocks, soften the stomach and round the spine.
So what exactly is Active Sitting?
Active sitting occurs when seating allows or encourages the seated person to move. With this, muscles are active and less tense, they 'need to work' and will thus be strengthened. Breathing is enhanced and blood circulation is active which increases concentration and your overall well-being.
Take a look at these 3 unconventional options, targeted at keeping you active, healthy, and might even improve your abs
Theragear Fit Ball Chair:
Part exercise and part balance-builder, this ball-based chair employs the same ball used in your workout routine but outfits it with an adjustable support bar, easy-glide casters. This will help keep your spine aligned, and is said to improve overall well-being.
Theragear Ergo Sit™:
Much like a balance ball, the Ergo Sit cushion makes you sit up straight while working your abs. The air-filled Ergo Sit™ cushion is an innovative way to improve posture and promote better balance. Sitting on it encourages upright posture, which means less stress on your spine. Strengthen back and abdominal muscles while working at your computer.
Theragear Swiss Ball:
Last, just go for the classic Swiss Ball! Recently, the exercise ball has moved out of the gym and into the home and office. People are using the ball as a chair in order to strengthen core muscles.
---