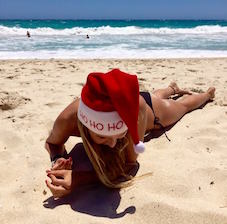 With over half of all Americans overweight we cannot consider it acceptable to overeat. A recent government study revealed that Americans will take on board a whole extra pound this Christmas.
Let's control that. We do not want to turn our Christmas into a nightmare, do we? During the study the level of hunger and the level of activity contributed heavily to weight gain.
Keep yourself active over the holidays and you would be one step ahead trying to keep that pound off. The more you exercise the less hungry you will be and the less you will eat.
If you have not lost any weight this year then you must really focus on not gaining that pound that the government says you will gain this Christmas.
Here are a few tips to help you control your eating over the holidays:
Do not go AWOL from your exercise class because it is holiday time. Remain as active as possible. Get off the elevator a few flights before your floor daily. Take those long walks when you can.
The key is really in the portion size of your meals. Cut your portions back. You do not have to stack your plate. That is not necessary. Dig in as much as you wish on the green salads. Desserts are deadly at this time of year. Think bite sized.
This may sound silly but eat the things that you enjoy. No need to try out this and try out that. Stay with what you know. Just because everyone else is raving about the best tasting sweetened yams does not mean that you have to dive in.
Tempted by the special dishes that the showoffs bought? They do that all the time. Those dishes are stuffed with pound packing ingredients, stay far away from that table.
Be consistent with your eating habits. Do not hold out for the big meal. You do not really save calories by missing meals and then stocking up at the big meal. You tend to overeat when you do that.
How about keeping a food diary for the holidays only? Great idea! Record everything that passes through your lips. You may get a surprise at how often and how much you eat.
Just for this Christmas only, no alcohol. Drink water instead. Alcohol piles calories on you but gives you nothing in return.
I know, yes the holidays are very stressful. When you are stressed you tend to eat more. Well do something for yourself. Make an appointment for a massage. Pamper yourself over the holiday.
Are you doing the cooking? Watch out for the tasting. That can really hurt you. You are not even aware of how much you eat.
These tips can go a long way to making your Christmas a pound free Christmas. Keep these tips close. Commit them to memory. Have a fantastic holiday.
---